Gluten-Free Overnight French Toast Bake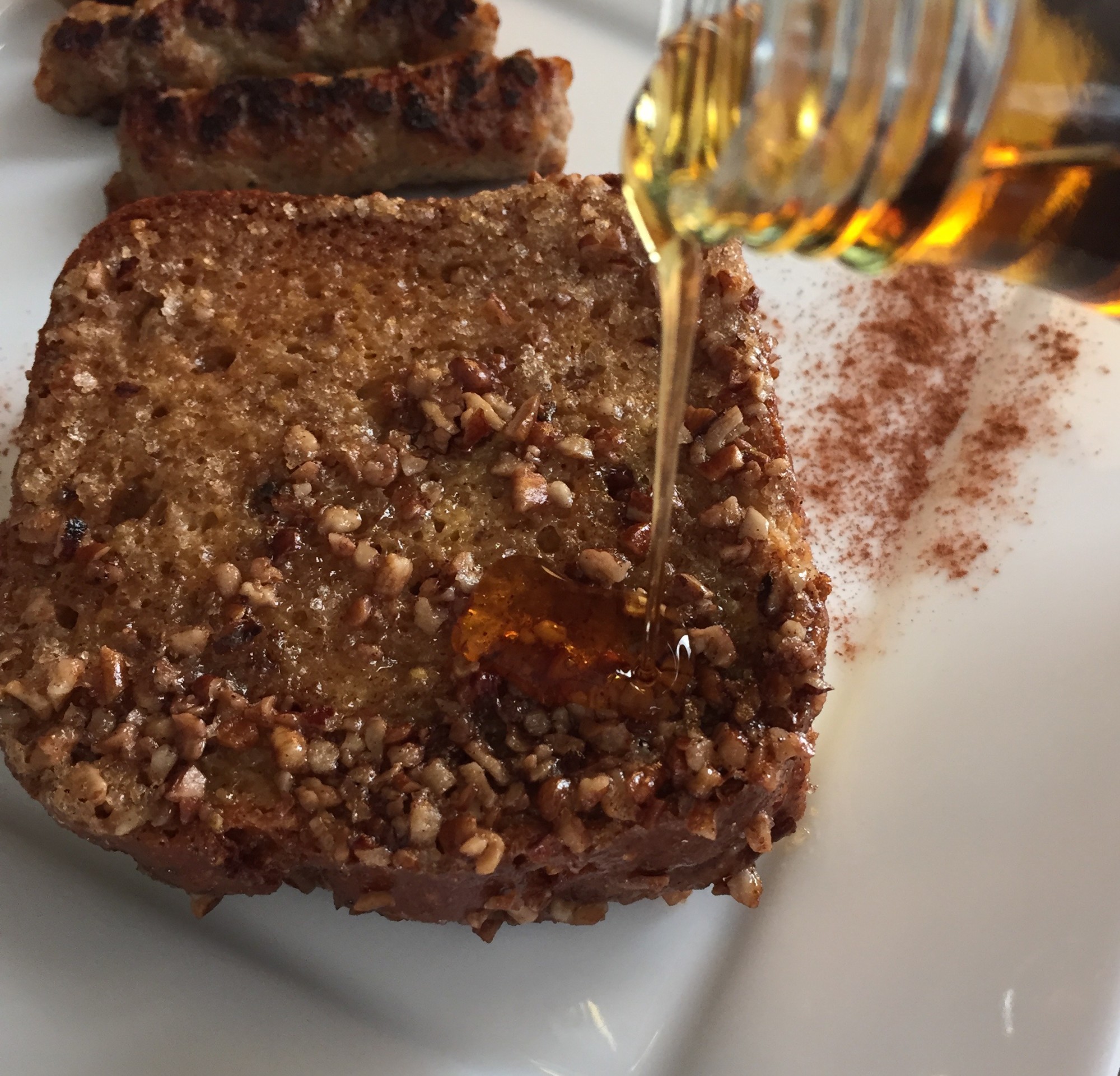 My mom used to make overnight french toast bake around the holidays, specifically for Christmas morning and New Year's Day morning. I have made this recipe for my husband and overnight guests since I've been married. This New Year's, I decided to try a gluten-free, dairy-free, whole-food recipe. It turned out delicious, and will last the two of us for days.
Main Ingredients:
1 loaf gluten-free bread (I used Udi's Millet-Chia bread. The original recipe calls for one loaf of french bread.)
8 large eggs
2 cups So Delicious coffee creamer (I used french vanilla, but you could also use regular. You can use any variation of dairy-free coffee creamer, or regular half-and-half if you are not making this recipe dairy-free)
1 cup unsweetened vanilla almond milk or rice milk (or any milk you choose)
1 tablespoon sugar (I used Turbinado sugar.)
1 tsp vanilla
1/2 tsp cinnamon
1/4 tsp nutmeg
dash of salt
maple syrup (optional) for topping
Topping Ingredients (for the next morning):
1 cup coconut oil (or any butter alternative you like. Use butter for dairy-full recipe)
1 cup light brown sugar (I used organic light brown sugar)
1 cup chopped pecans (optional, but I think these totally make the dish)
2 tbsp maple syrup
1/2 tsp cinnamon
1/2 tsp nutmeg
Directions:
*The night before…* Grease/butter a 13×9 pan (I used glass). Cover the pan with slices of bread, and then add a second layer directly on top of each slice. Fill in gaps with chunks of slices broken off.  Combine all top ingredients in a bowl and beat well by hand. Pour the mixture over the bread layers, making sure you cover all areas. Cover and refrigerate overnight.
*The morning of…* Preheat oven to 350 degrees. Melt coconut oil and combine all of the topping ingredients in a bowl. Spread mixture evenly over the top layer of bread slices. Bake for 35-40 minutes. The dish will be ready when the top and edges are golden brown, and the french toast bake is bubbly. Slice and serve with maple syrup. We enjoyed ours with apple chicken sausage. Refrigerate any leftovers and enjoy the next morning!
Hope you love it!
Ali xo
About Ali
I'm Ali. I write about my journey of living a full and healthy life with food allergies, overcoming the comparison trap, and cultivating authenticity.