Apple Pear Crisp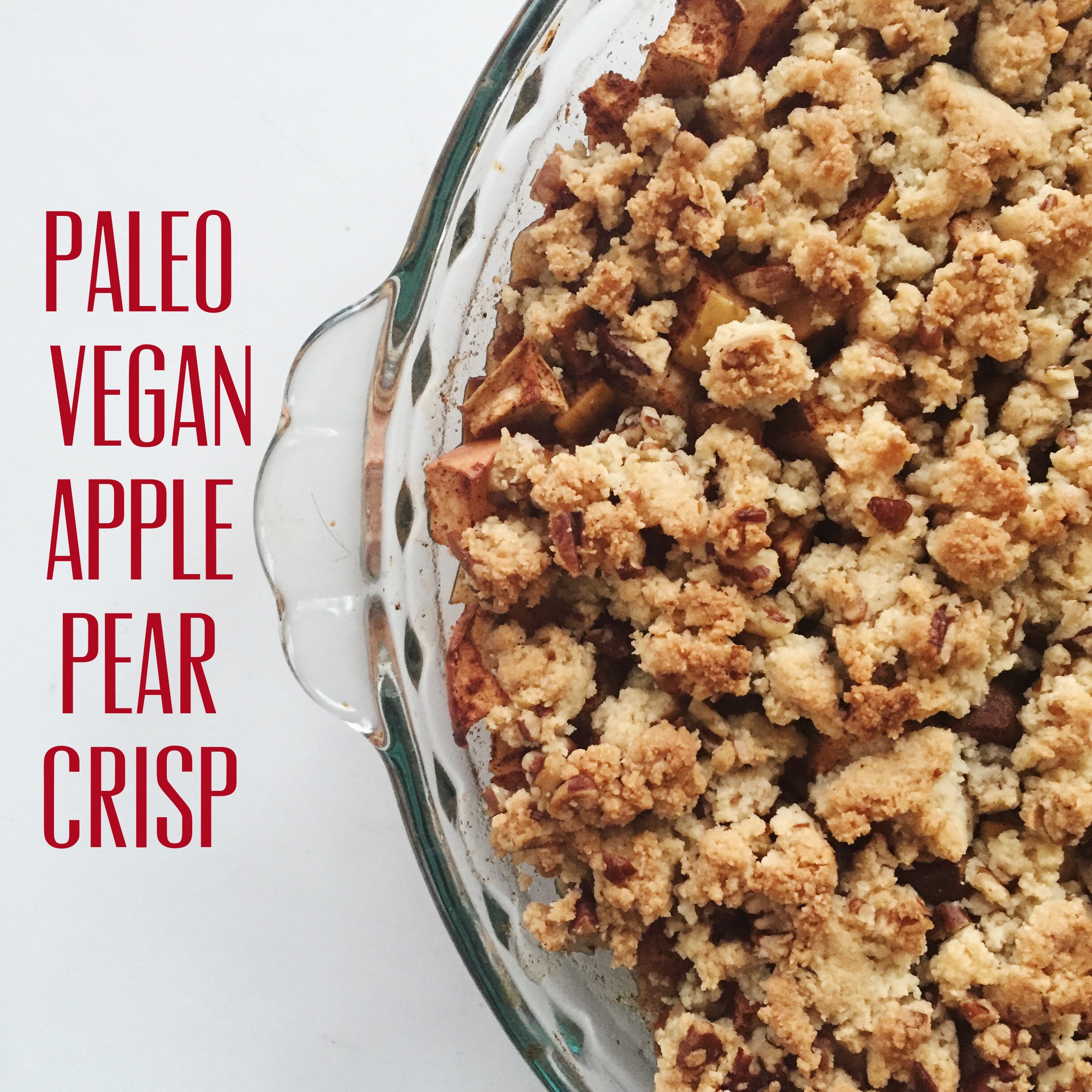 Last week I signed up for my first Green BEAN Delivery order* (I love supporting local farmers and artisans), and I decided to order organic red Starkrimson pears, golden delicious apples, gala apples, and honey crisp apples from the produce selection. (I guess you could say that autumn was on the brain!) This dessert is gluten-free, dairy-free, paleo and vegan–no grains, no added sugar, and no eggs.
Fruit Filling Ingredients:
3 pears and 3 to 4 apples
1/4 cup orange juice or apple juice
3 tbsp maple syrup
2 tsp cinnamon
1 tsp apple pie spice or nutmeg
Crisp Topping Ingredients: 
1 cup almond flour
1/2 cup chopped pecans
1/4 cup maple syrup
2 tbsp melted coconut oil
Directions, Part 1: Pre-heat oven to 350. Mix all of the filling ingredients in a large bowl. Place the mixture in a greased pie pan. Bake for 45 minutes. Mix the topping ingredients in a medium bowl.
Directions, Part 2: Add the topping on the fruit mixture by carefully spreading it around with your fingers, making sure to cover the entire area. Bake for 20 more minutes at 350, or until the top is browned. Enjoy the crisp in a bowl with whipped topping or ice cream! My favorite whipped topping is So Delicious Coco Whip.
If you'd like to use only apples (and no pears), it would be delicious that way too! Let me know if you like it. Happy autumn and happy baking…
Love, Ali
P.S. If you live in Indiana, Kentucky, Missouri, Ohio, or Tennessee, check out Green BEAN Delivery. You can use the code "AliWren" to receive $15 off your first order (or re-activation) through December 31! Green BEAN Delivery brings organic and all-natural foods sourced from Midwest farmers and artisans whenever possible directly to local consumers' homes. The company's network of local farmers and artisans, and year-round service gives members a healthy alternative to traditional grocery stores. Members can sign up for weekly or biweekly deliveries, and each produce bin is 100% customizable. You can even add local dairy, meats, bread and other grocery products. All products are all-natural and free of additives and preservatives. Members can choose from more than 1,500 products available each week. I was impressed with Green BEAN's excellent customer service and communication. You should definitely take advantage of this offer.
*Disclaimer: Green BEAN Delivery graciously provided me with one free bin so I could experience this wonderful service and share it with you!
About Ali
I'm Ali. I write about my journey of living a full and healthy life with food allergies, overcoming the comparison trap, and cultivating authenticity.