Artie's Paleo on the Go!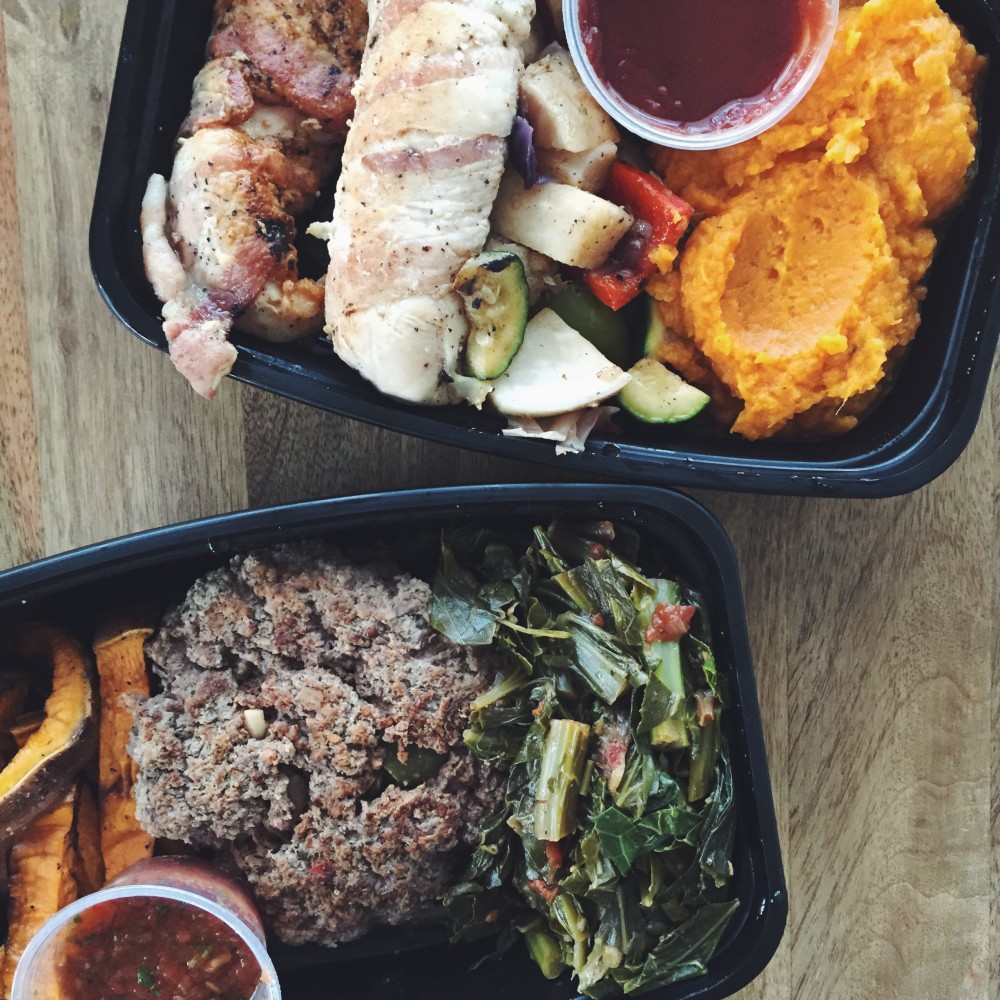 The dirty little secret of eating clean, paleo, gluten-free, whole30, etc. is something not enough people talk about: food prep. That is to say, the hours upon hours of messy kitchens and meticulous food prep that go into preparing a meal. At the most inconvenient times, nonetheless. Often, the times you are most tempted to go off of your healthy eating plan–right after you finish a workout or get home from a long day of work–it's easiest then to open a bag of chips or order fast food.
Enter Artie's Paleo on the Go–a healthy food service that features meticulously prepped gourmet paleo dishes, carefully created for people on the go.
My husband (Adam) and I heard about Artie's Paleo on the Go from Shelby at Caveman Food Truck. (You might remember my Q + A session with Shelby here.) Artie, founder and chef of Artie's on the Go, started this business in 2012 after taking up CrossFit with his wife in 2011 and realizing the need for people to get real food with convenience.
We've tried Artie's two weeks in a row. Adam, resident animal eater, loved the Mexicali stuffed burger, applewood smoked bacon wrapped chicken tenders with 3-berry bbq sauce, and Southwest bacon wrapped paleoaf. I, carb/veggie/lean protein-loving sweet eater, loved the PaleoPesto crusted wild caught mahi mahi, roasted garlic tossed zuchetti, (new) roasted garlic mashed sweet potatoes, vegetable medley, southwest greens, giant chocolate chip cookie, and chocolate chunk brownie with caramel drizzle. (And no, I did not eat all of these items in one sitting.) Our food was in the fridge waiting for us at the CrossFit pick-up location. (The pick-up process was a little unclear for someone who has never been to the CrossFit gym, but Artie was quick to answer email and direct messages on twitter.)
Artie offers pick-up options at 30 different locations in the Indianapolis area, one of which is a mile away from me. (Score!) He also includes the ingredients in each dish, which is especially appealing to whole30ers. Shortly after placing your online order, Artie sends an email with the chosen items and meals, along with directions for heating each dish.
Each meal is $13, but I found that I could spread mine out over two days and have leftovers for lunch. I used my leftover veggies in an egg scramble for breakfast the next morning too.
Like I said, I loved the giant chocolate chip cookies, which were priced at two for $5. I want to ask Artie if he'll make me a custom order of a dozen (or two?) of those delicious bad boys. I can't stop thinking about them!
In the words of Artie, "My goal is to provide a healthy meal at a reasonable price to the community." Two words I like to hear: healthy + reasonable.
I can definitely see Artie's becoming a weekly staple for us. It's delicious, each week there is a variety of items to choose from, and it's healthy. Let me know if you give Artie's a try!
Love, Ali xo
About Ali
I'm Ali. I write about my journey of living a full and healthy life with food allergies, overcoming the comparison trap, and cultivating authenticity.