Tips for Holiday Gatherings with Food Allergies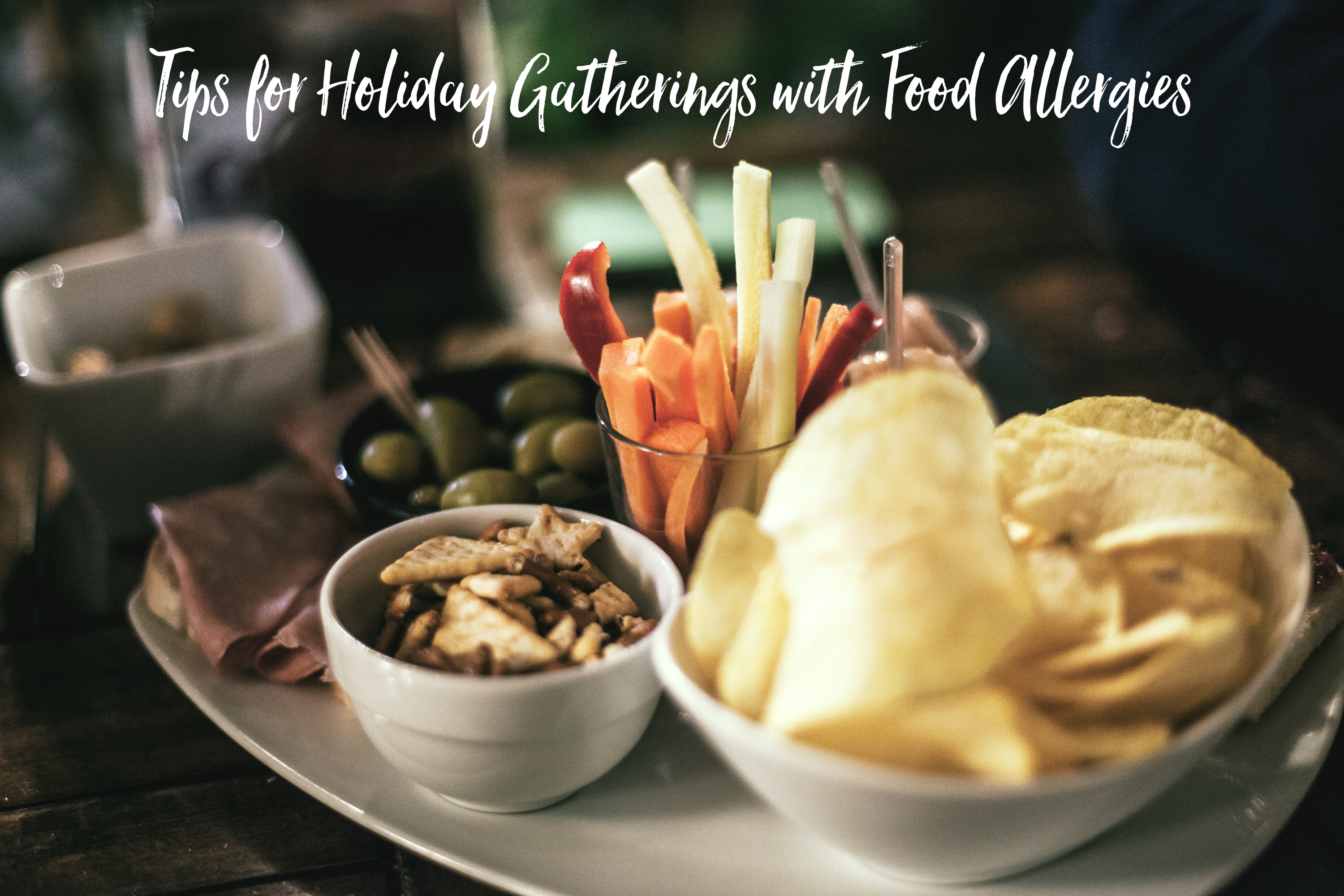 The holidays can be stressful. Let's be honest–the holidays are stressful. Arranging travel plans, overcommitting our calendars, fighting the crowds at the mall. And on top of all that–planning and preparing meals: grocery shopping, waiting in long lines, making a mess in the kitchen, and cleaning up the mess just to make a new one.
Planning and preparing meals for holiday gatherings alone can feel overwhelming. Planning and preparing meals for special dietary needs takes overwhelming to a new level.
Here are 5 tips I've found helpful for planning meals while considering guests with food allergies:
Ask your guests ahead of time if there are any special dietary food needs. If someone is dairy-free, consider using olive oil or margarine in place of butter, or an alternative milk (almond or soy) in a basic potato or vegetable recipe.
Don't be afraid to ask your guest(s) with specific allergies to bring their favorite dish (or dishes, like a side and a dessert) to share.
Designate a section for special food needs to avoid cross-contamination. Maybe this looks like a nut-free zone, or a gluten-free area.
Offer condiments and dressing on the side, instead of spreading or stirring them directly on the food item. This is especially easy when you create a salad with a variety of delicious toppings.
Finally, a note to the wonderful friends and family hosting the dinners: Seek to be understanding toward your guests with special dietary needs. And know that you are appreciated for your efforts and all of the time you put in to planning a holiday gathering. Recognize that it can be stressful and anxious for someone to come to your home with special food needs, and people don't always feel comfortable speaking up in front of others and bringing attention to themselves. Be hospitable and make your guests feel welcome.
Here are 3 tips I've found helpful while eating at others' homes:
Don't be afraid to tell the host about your food needs. Offer to bring a dish to share that you can enjoy. Speak up ahead of time. You might offer to bring a side dish and a dessert that others can try too.
Bring your own allergy-friendly food to the party. If you don't feel comfortable speaking up to the host, bring an individual serving of your own allergy-free food item(s). I often bring my own dessert serving to a new place so I can enjoy something sweet with everyone else.
Be appreciative and kind to your host. It is no easy feat to plan and prepare food for a group of people, especially around the holidays. Shower your host with gratitude.
Hosts and guests, what are your tips for enjoying holiday gatherings with special food needs? I'd love to hear your thoughts.
Happy Holidays!
Love, Ali
About Ali
I'm Ali. I write about my journey of living a full and healthy life with food allergies, overcoming the comparison trap, and cultivating authenticity.