When the Holidays Don't Feel Full of Joy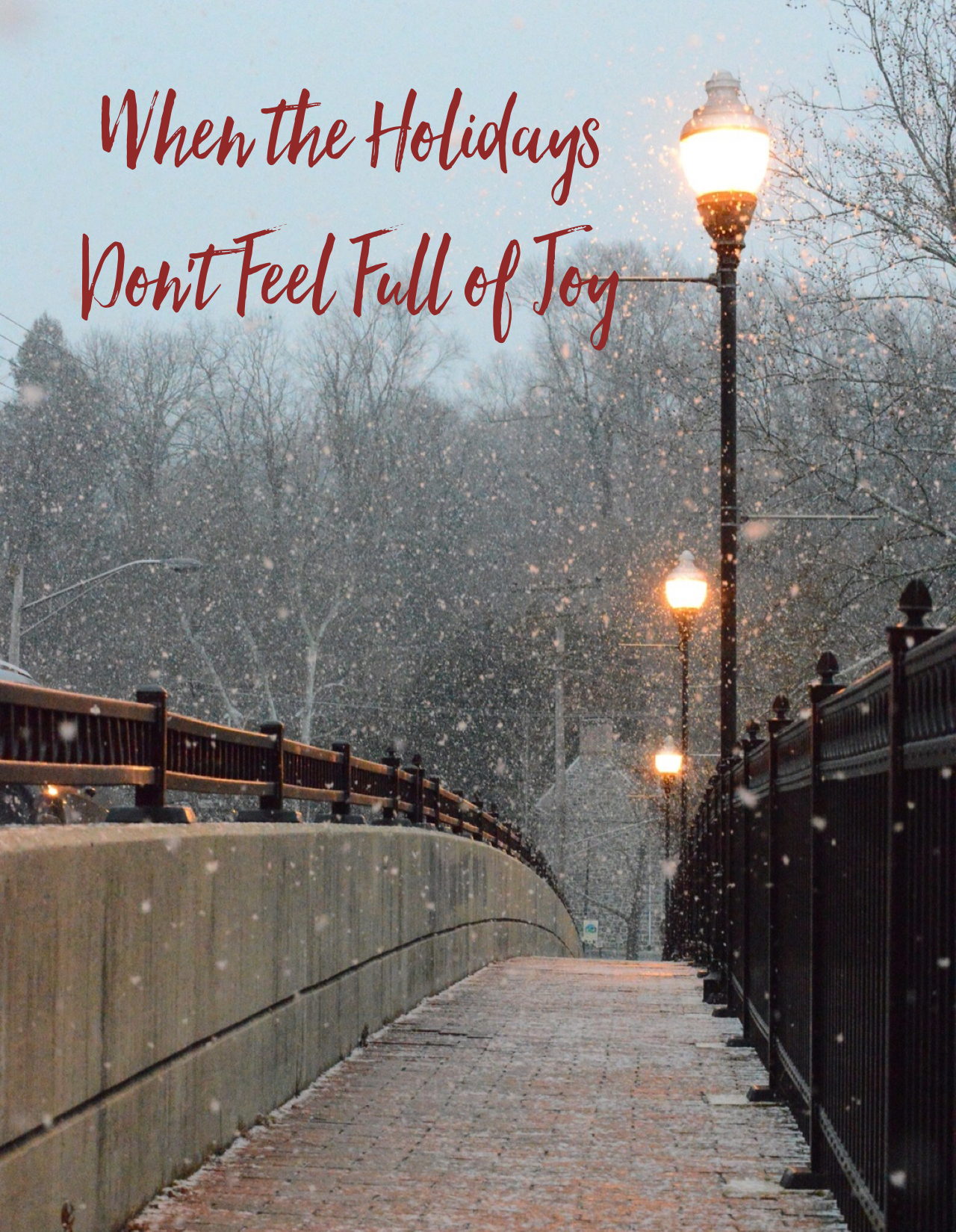 Everyone is posting pictures with their perfect families. And pictures of their perfect decorations. And pictures of their perfect lives. Because it's the perfect time of year.
Wait–Perfect?
It's easy to believe the lie that our friends and family have the perfect lives, isn't it?
No one's life is perfect. So before you fall for this lie (again), remember this truth: No one's life is perfect. No one is perfect.
Maybe this time of year is difficult for you. Maybe you're feeling lonely. Or maybe you're celebrating the holidays for the first time without a loved one. Maybe you're in a different financial place this year. Or maybe life isn't working out the way you thought it would.
To you who feels alone. I am so sorry. You are chosen and dearly loved by our great God. His love is flawless and He loves you more than anyone else humanly could.
To you grieving the loss of a loved one. I am so sorry for your loss. Give yourself permission and space to grieve. Hold close the memories that will forever remain in your heart.
To you feeling the burden of financial stress. I am sorry that you are going through this. It is my hope that you don't feel like less of a person because of this season of life. I hope you can focus on the blessings and relationships that bring life and meaning–the things that could never be tied to a price tag.
To you who feels like life isn't going the way you thought it would. Whatever your specific situation is, you are going to come out stronger in the end. You might even be able to help someone else with your story. Do you believe that?
The holidays have a way of pulling out the heaviness we feel deep inside our hearts. There is power and healing in naming our hurts, instead of hiding behind them.
Whatever your struggle is during this season, I hope you know that you are loved. You are worthy. Your life matters. And you will get through this.
Are you tired? Worn out? Burned out on religion? Come to me. Get away with me and you'll recover your life. I'll show you how to take a real rest. Walk with me and work with me–watch how I do it. Learn the unforced rhythms of grace… Keep company with me and you'll learn to live freely and lightly. – Jesus
(For you who feels so much JOY this season, I am so happy for you. Please don't feel like I am criticizing your life, or your photos, or your greeting cards. I felt a tug on my heart to write this for the people feeling less-than-joyful this season. Join me in keeping our eyes open to love the lonely, broken, and grieving this season?)
Love, Ali xo
About Ali
I'm Ali. I write about my journey of living a full and healthy life with food allergies, overcoming the comparison trap, and cultivating authenticity.