Simple Style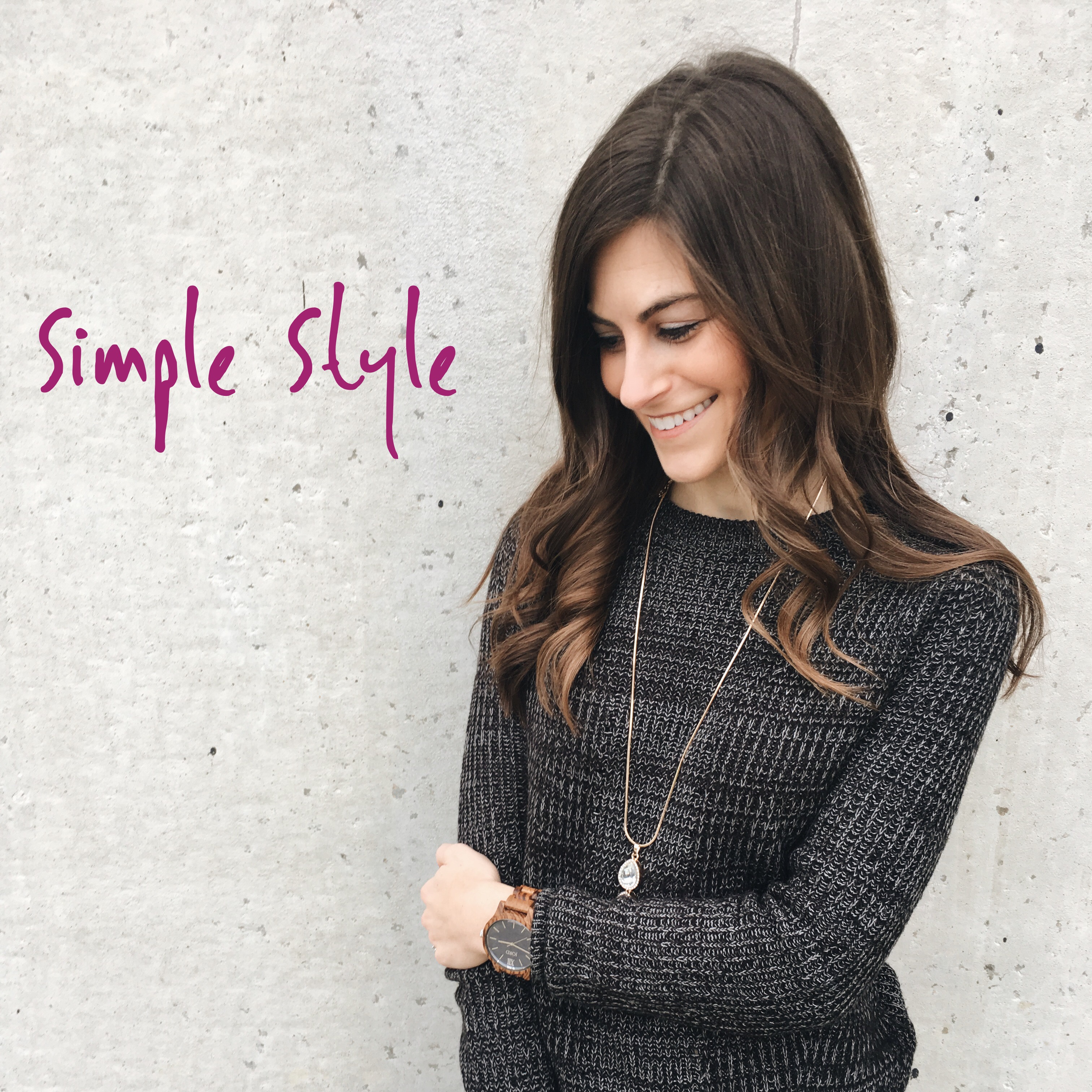 If you asked me to sum up what I love and how I hope to inspire others with my life, I would tell you that I want to live a life of authenticity, beauty, and simplicity. I want to encourage others to live as they are–to be confident in who they were made to be, and to make healthy eating and lifestyle choices. This blog serves as a platform to share what I'm learning along the way.
Over the last few years, I've started to think more about my wardrobe. I love shopping, and I love new clothes, but a couple years ago, I found myself feeling uninspired from buying the next deal at Target or Ann Taylor Loft. I had the latest trends, and jewelry to match every outfit, but I never knew what to wear. I had a rainbow collection of clothes, and nothing seemed to coordinate.
I've started to simplify my life–particularly my wardrobe–by decreasing the amount of stuff I have, and making sure I have quality items that make me feel good about myself.
One of my favorite authors, Shauna Niequist, conveys my thoughts about simplicity so well in her most recent book, Present Over Perfect:
I'm amazed at how many things are ultimately connected: I like living in our home more when it's less full of stuff. I find it easier to get dressed in the morning when I have fewer choices. I've begun wandering through our house, gathering things up—less, less, less. And in my closet—less, less, less. I'm creating quiet in our home, on our walls, in my own closet, and that quiet gave me energy. The simplicity feels spacious, and inspiring, like I can draw a clean breath.
Though I'm still refining the process, I have been able to nail down my preferred color palette, and only shop for clothes that fit my particular palette–in the fall and winter seasons: gray as the main staple, along with navy and black, and hints of blue, raspberry, and green; in the spring and summer seasons: the same neutral staples, along with aqua and navy.
I am no fashion blogger or pure minimalist. And I don't buy clothes from one particular store. I simply shop for items that make me feel confident and comfortable. I try not to worry about the latest trend (knowing that it will last for a season). I go through my clothes each year, and if something doesn't fit right anymore, or if I don't feel good in it, I donate it.
When I go shopping, I feel more contentment than I ever have before. My husband taught me to make a list of clothing and accessory items that I want, and I don't often veer from that. I know what I'm looking for, and I don't feel like I need the next best deal just because. 






I have even simplified my jewelry. I keep my winter collection in this plate on my dresser, and it only includes a few items–a long gold necklace (with gold bracelets if I want to dress up an outfit), a long silver necklace, and a wintery statement necklace with earrings (which I might wear to a holiday party). My new favorite everyday accessory is my JORD wood watch.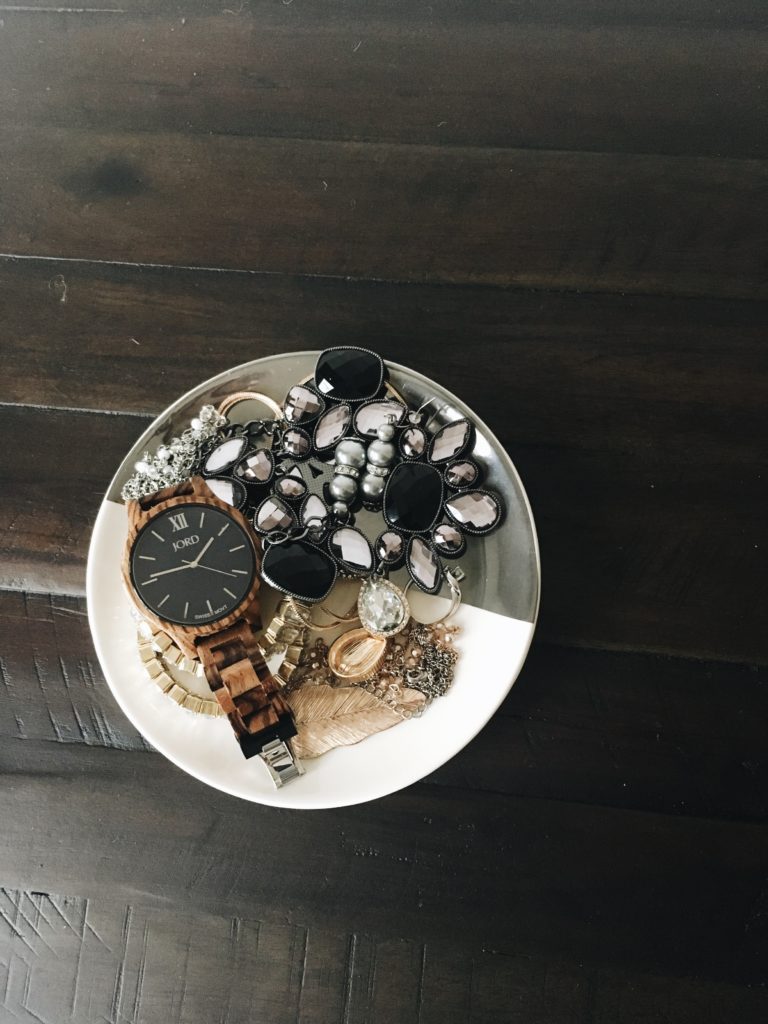 Most of my spring and summer items are stored away (I have a few short-sleeved items for layering since we've had an unseasonably warm November). This is the main portion of my closet, which does not include pants or dresses. Right now in my closet, I also have a timeless navy dress, a winter black dress, and a winter cranberry dress.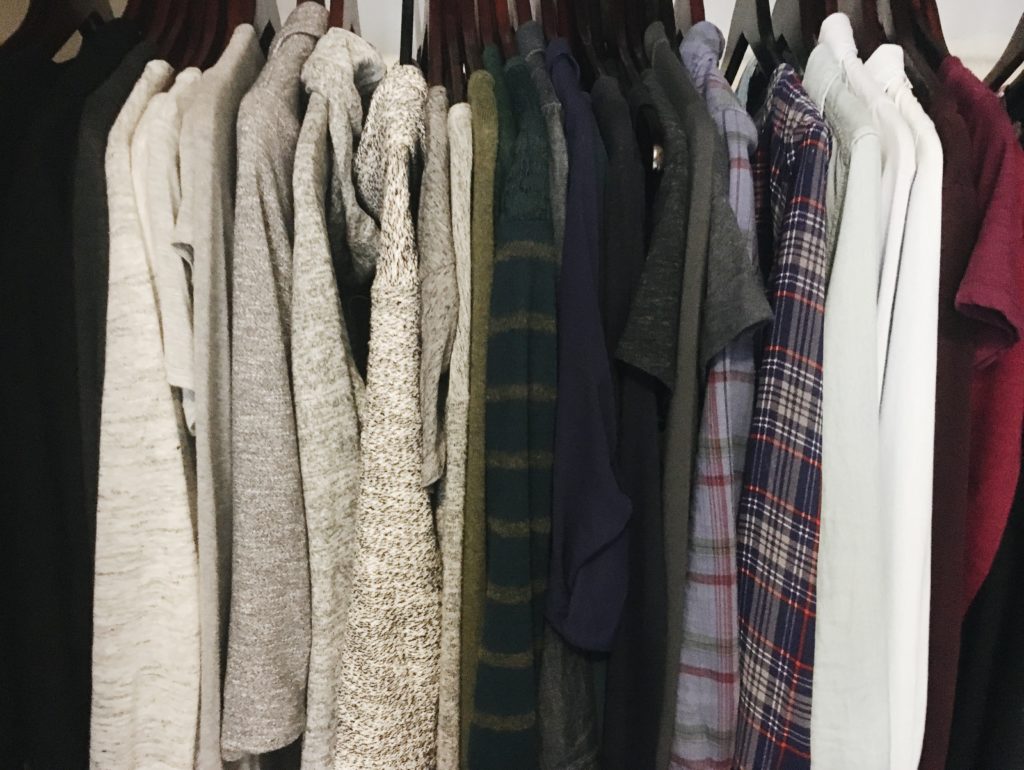 I've composed a few questions and resources to get you thinking about your style. If you feel overwhelmed, start small. It's taken me years, and I'm still learning as I go:
How would you define your style? What is your preferred color palette? What makes you feel confident? What stresses you out about your closet or your wardrobe?
Be brave by being you. Own your individual style, and don't worry about looking like the next girl.
Helpful resources:
The Life Changing Magic of Tidying Up (affiliate link)
Present Over Perfect (affiliate link)
---
If you like my watch, check out all of JORD's collection at the link below. By entering the exclusive giveaway, you will instantly be emailed a $25 e-gift code.
This post was sponsored by JORD Wood Watches. All opinions are my own. 
About Ali
I'm Ali. I write about my journey of living a full and healthy life with food allergies, overcoming the comparison trap, and cultivating authenticity.