Grain Free Vegan Snickerdoodles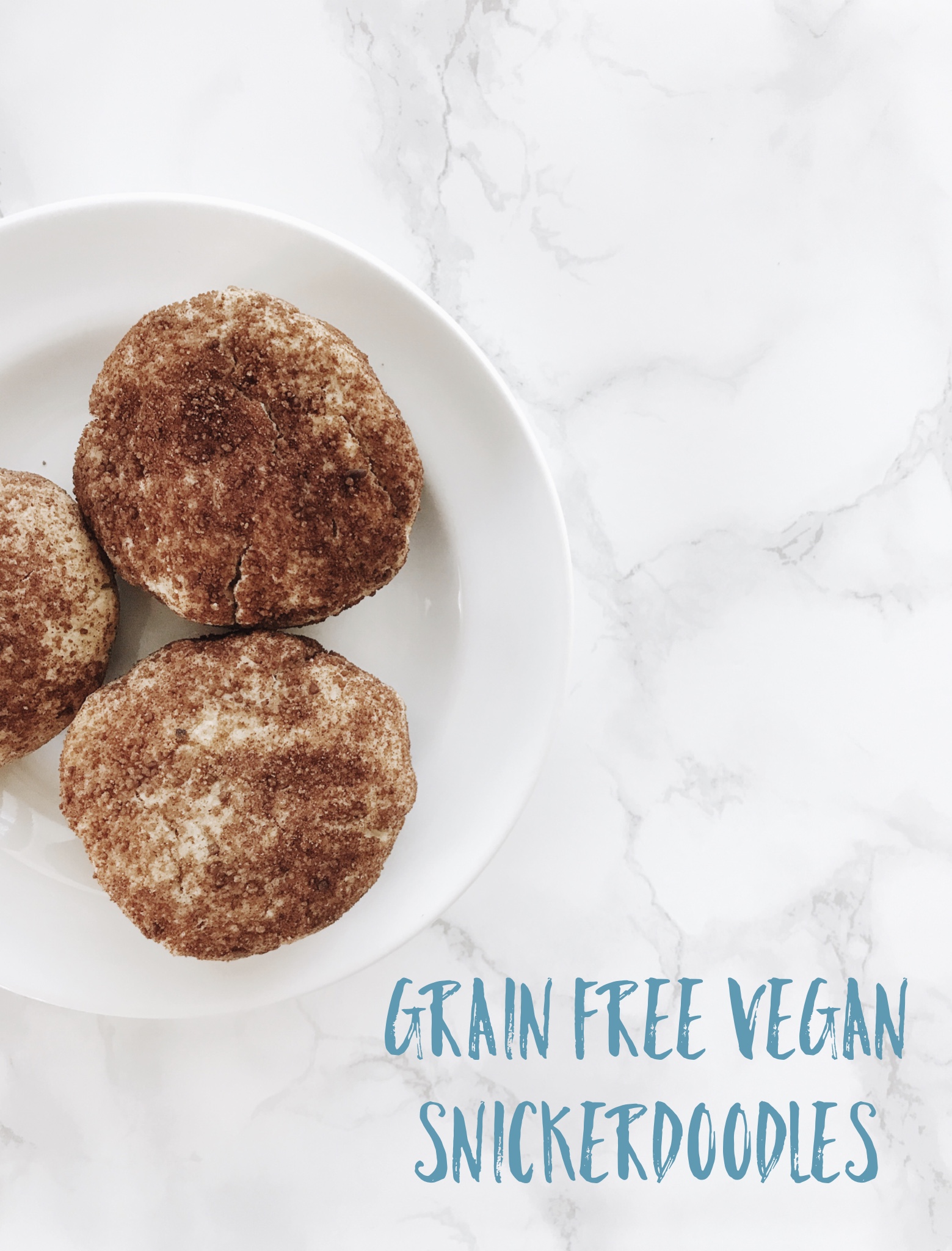 Would you believe it if I told you that I never had a snickerdoodle cookie until I was a teenager? I guess my family stuck to baking mainly chocolate chip cookies (which are still my favorite, by the way). I've always been a big fan of real cinnamon (not the fake artificial flavoring that is in candy), and I fell in love with the flavor of homemade snickerdoodles.
These cookies are paleo and vegan, and bake to a soft, crumbly perfection.
Ingredients, Part 1: 
3 cups almond flour
3/4 cup coconut flour
2 tsp. baking powder
1/2 tsp. salt
1 tsp. cinnamon
Ingredients, Part 2: 
1/2 cup coconut oil, melted
1/2 cup maple syrup
4 tsp. vanilla
Ingredients, Part 3: 
3 tbsp. monk fruit sweetener (or sugar)
1 tbsp. cinnamon
Directions:
Preheat oven to 350, and line a cookie sheet with a baking mat or parchment paper.
Mix dry ingredients in a large bowl. Combine wet ingredients until dough becomes thicker.
Place the dough in the fridge for 5-10 minutes so that it thickens even more. In a small bowl, combine the monk fruit sweetener and cinnamon.
Take the dough out of the fridge, and roll it together to form a ball (this will make approximately 24 cookies).
Roll the ball in the cinnamon mixture, and then place on the baking sheet. Repeat until all of the dough has been made into ball shapes.
Take a flat surface (the bottom of a measuring cup) to lightly flatten the top of each cookie.
Bake for 8-10 minutes. Let cookies sit on the baking sheet for 10 minutes, and then cool completely.
These cookies will be soft and cake-like. I hope you love them!
Love, Ali
About Ali
I'm Ali. I write about my journey of living a full and healthy life with food allergies, overcoming the comparison trap, and cultivating authenticity.