Sweet Potatoes and Chicken Sausage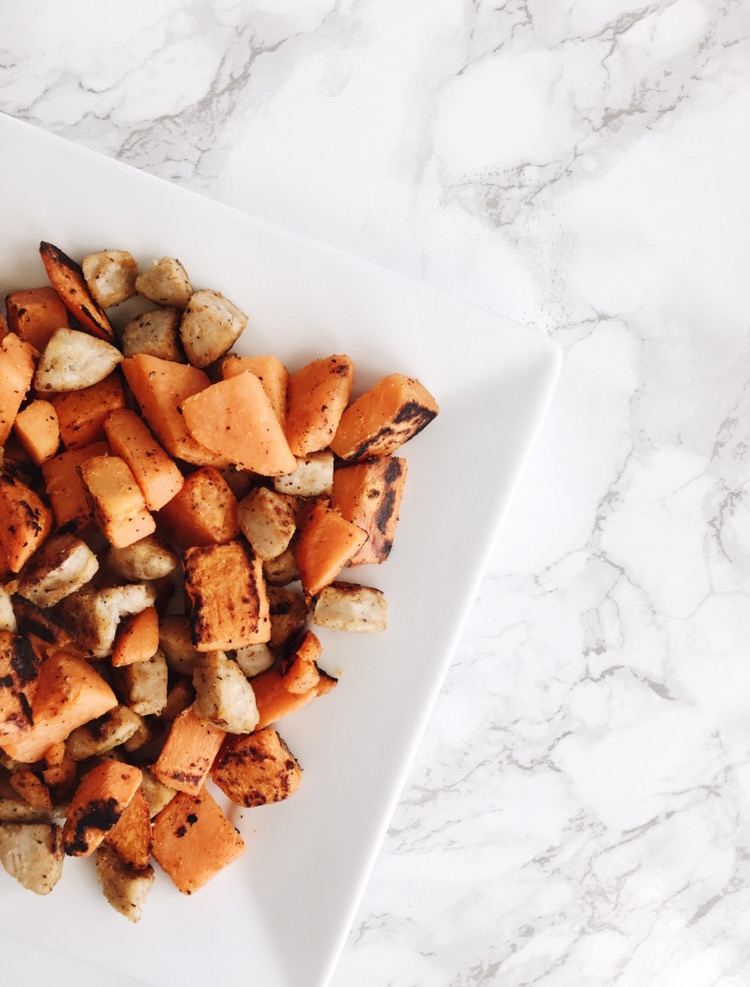 When I married my husband, he ate a small range of food including mainly red meat, pork, bread, and potatoes. I ate mainly chicken, vegetables, fruit, and sweet potatoes. We did not have a lot in common when it came to food preferences, which made for interesting (not to mention time-consuming) meals at the dinner table. Over the years, we have made compromises, tried new food, and expanded our palates together.
This is a husband-approved, tried and true go-to recipe that we make on a regular basis in our kitchen. I hope you like it, too!
Ingredients:
1 package of chicken apple sausage
1-2 tbsp. Bad Byrons Butt Rub*
2 sweet potatoes (peeled)
1/2 red pepper (optional)
olive oil
sea salt and pepper to taste
*If you don't have butt rub (you should definitely consider buying some), here is a clone recipe, courtesy of Bradley Smoker: 1 tsp salt, 1 tsp black pepper, 1/2 tsp onion powder, 1/2 tsp garlic powder, 1/2 tsp chipotle powder, 1 tsp paprika
Directions:
Preheat oven to 450 degrees. Dice sweet potatoes and red pepper into small pieces. Toss sweet potatoes and red pepper pieces in olive oil, sea salt and pepper. Bake in oven for 30-35 minutes, turning over every 10 minutes.
While that mixture is baking, slice the sausage into bite-size chunks. Add the meat and butt rub to the pan and fry until the chicken is crisp and browned.
This dish is great for breakfast, lunch or dinner! It stores and reheats very well, too. I enjoy mine with a little bit of organic ketchup. Let me know what you think!
This can be made Whole30 with a Whole30-approved chicken sausage. I like Aidells brand.
About Ali
I'm Ali. I write about my journey of living a full and healthy life with food allergies, overcoming the comparison trap, and cultivating authenticity.