Healthy Buckeyes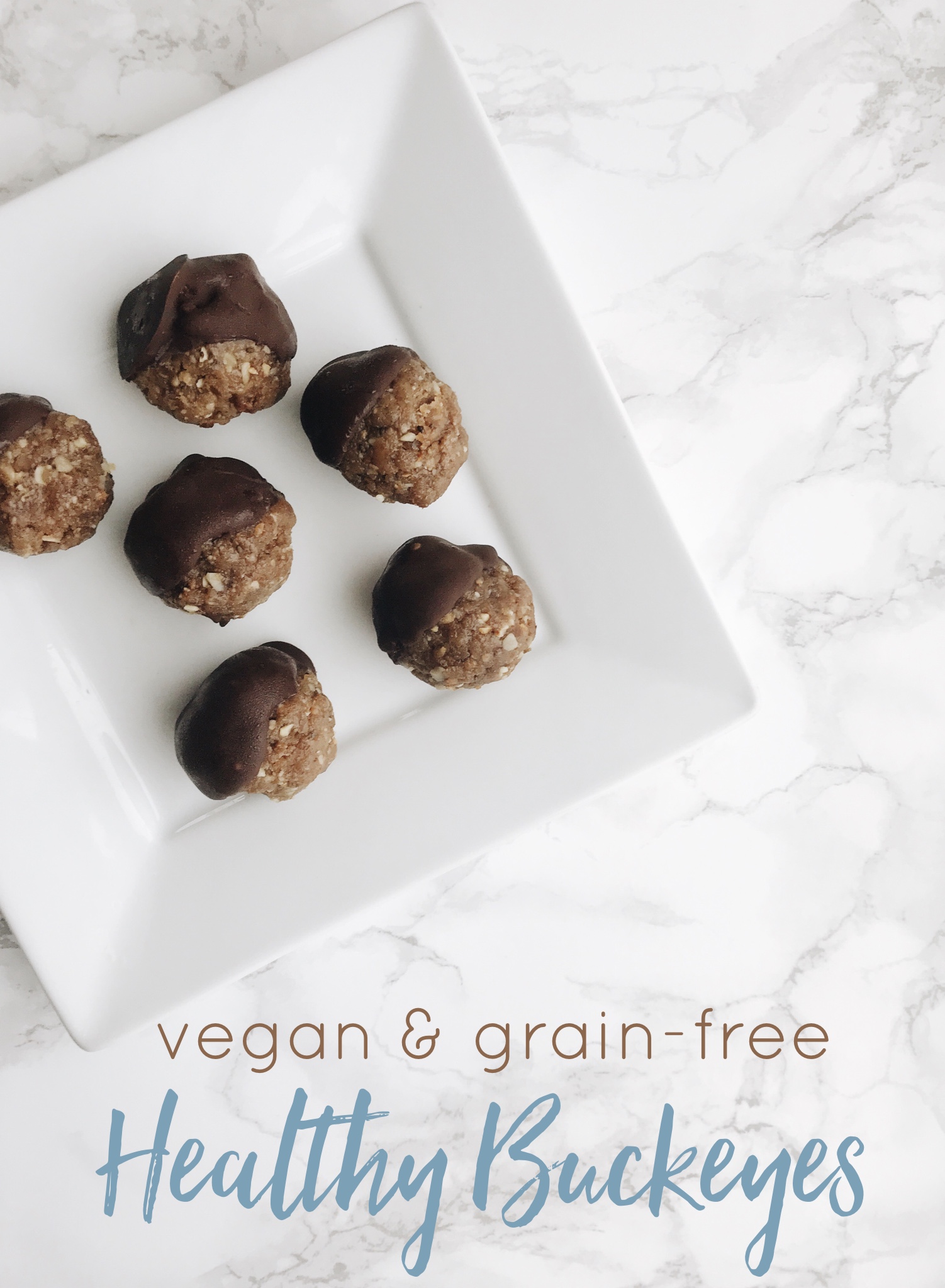 My hometown is in Michigan and my husband is from Ohio, and we both grew up eating buckeyes over the holidays. My grandma always makes them, and his mom always makes them. Vegan, gluten-free, dairy-free, and refined sugar-free, these healthy buckeyes were the dessert I brought with me as we traveled in December. They are the perfect balance of sweet, salty, and crunchy with paleo granola as the secret ingredient. (They can be made paleo with almond butter or sunflower seed butter in place of peanut butter.)
Even though the holidays are over, these are a treat you can feel good about even with a new healthy-minded year!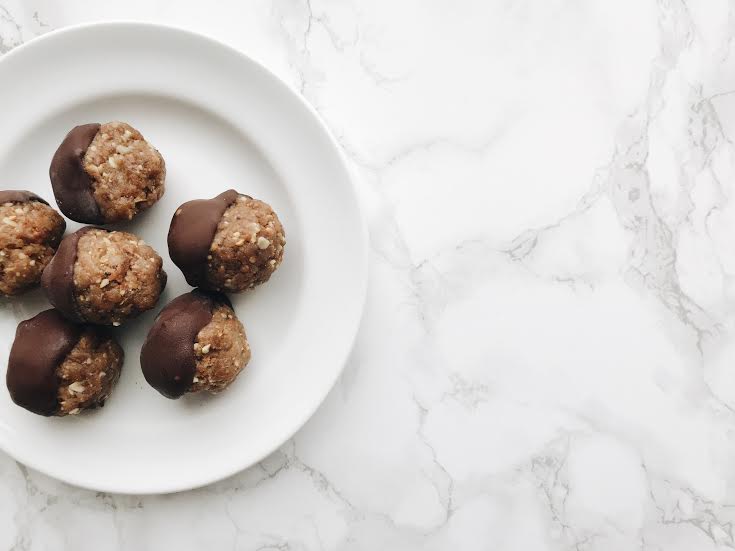 Ingredients: 
8 pitted dates (approximately one cup), soaked in warm water for 10 minutes
1 cup dark chocolate chips (I like Enjoy Life dark chocolate chips)
1/2 cup of your favorite natural peanut butter, room temperature
3/4 cup paleo granola* (I used Purely Elizabeth's Coconut Cashew grain-free granola)
1/4 teaspoon sea salt
*You can use rice crisp cereal or another granola in place of the paleo granola.
Directions:
Drain dates, and place them in a food processor with an 'S' blade. Process until the dates break down into small pieces.
Add peanut butter and sea salt to the food processor. Process until a dough forms.
Add in granola and pulse until the granola is evenly combined into the mixture. (Don't process too much, or you will lose the crunchy texture!)
Roll the dough into balls and place them on a parchment-lined baking sheet. Place the baking sheet in the freezer for 10-20 minutes to allow them to firm up.
Melt the chocolate chips over the stove or in the microwave.
Remove the baking sheet from the freezer and cover each ball with the melted chocolate–either covering half of each peanut butter ball, or the entire surface.
Place the baking sheet back in the freezer or refrigerator to allow the chocolate to harden. Store the buckeyes in the refrigerator until you are ready to enjoy them. Mine stayed in the refrigerator for a couple weeks over the holidays.
Enjoy!
About Ali
I'm Ali. I write about my journey of living a full and healthy life with food allergies, overcoming the comparison trap, and cultivating authenticity.