Type Three with Allie Bryant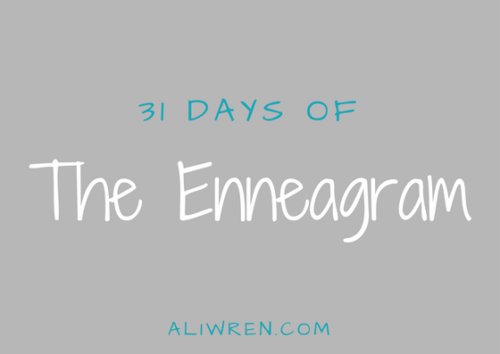 Allie Bryant is a daughter of Christ, wife, exercise guru, foodie, and wino. She loves anything well-designed. By day, she works on the communications team at Traders Point Christian Church, collaborating with a team of creative people to create visuals and environments that connect people to Jesus. She loves coming alongside creative people to help them succeed in strategic and simple ways. She also throws a pretty great party.
---
How long have you known about the Enneagram?
Less than a year ago. I started learning about it on podcasts, books, and in conversations. 

How long have you known your type?
The same amount of time as I've know about the Enneagram. I'm one of those people that dives all in when I love something new. It was shared with me through co-workers. We all took a test and read The Road Back to You as a team.

What do you wish people knew about being your type?
I recently read a book to help me dive deeper into the Enneagram: The Complete Enneagram, by Beatrice Chestnut. She breaks apart the three Subtypes of each archetype. I am specifically a Social Three, nicknamed Prestige: "expresses vanity by wanting to be recognized on the social stage by creating, leveraging, and selling a polished image." I am very confident in group gatherings and usually end up taking the lead if it is not being led well enough.

Threes have a habit of numbing out their feelings. Specifically for me, it's because I don't want feelings to get in the way of working to reach my goals. I'm more concerned with getting things done and making progress than worrying about my own feelings. My husband (Type One) will force me to relax instead of continue to achieve. One of the hardest things you can ask a Three is: "How are you feeling?" Being a 3w2, I am more concerned about everyone else's feelings in the room besides my own. I want to make sure we continue to move forward instead of talking about feelings (a weakness as well.)

What do you like about being your type?
I can get stuff done! I thought everyone was wired like me and didn't understand how people couldn't produce as much as I do at work. My expectations of others are extremely high because of this. I also have great confidence when entering a meeting, I can self-shape into who I need to be in each meeting. (I never knew this was a strength/) So depending on what is needed, (listener, project manager, leader, etc.) I can sense that, and take the best approach.

What challenge(s) does being your type bring?
I tend to push my feelings way down in order to continue to get stuff down (numb the feelings). It is really hard for me to just be instead of do. Also, because I'm in the heart triad and focused on what others think, I'm constantly focusing on the image of achievement and success that others have of me. I've been working on receiving criticism because I have such a high worth of what others think of me that I can feel hurt if I'm not in the right place.
---
This is part of a 31-day series: The Enneagram. To read all posts, head here.
About Ali
I'm Ali. I write about my journey of living a full and healthy life with food allergies, overcoming the comparison trap, and cultivating authenticity.